Client and Parent Feedback
Sanskriti has helped my son develop his speaking, reading, writing and listening skills. I am very grateful for Sanskriti and the skills they have taught him.
My daughter began the Muskaan programme when she was two and half years old. Thanks to Mrs. Dhar, my daughter and her peers are not only communicating in Hindi, but have all developed a passion for the language.
I would highly recommend this programme to all children who are keen to learn Hindi.
For the past year I have taken two hours of private lessons weekly with Geetanjali Dhar, Head of Sanskriti, and it has been wonderful. The dedicated one-on-one, and the focus on speaking, listening, reading, and writing has given me a sound feeling for the language. Many thanks Geetanjali!
A teacher takes a hand, opens a mind and touches a heart. Mrs. Geetanjali Dhar fits in perfect to this description.
We are extremely grateful to Mrs. Dhar for creating such a distinct forum teaching Indian culture and language in Hong Kong.
CONTACT US
For general enquiries, please feel free to complete the form below, or email us at info@sanskritiglobal.org.
Download Sanskriti Online App
Register today and speak Hindi like a pro!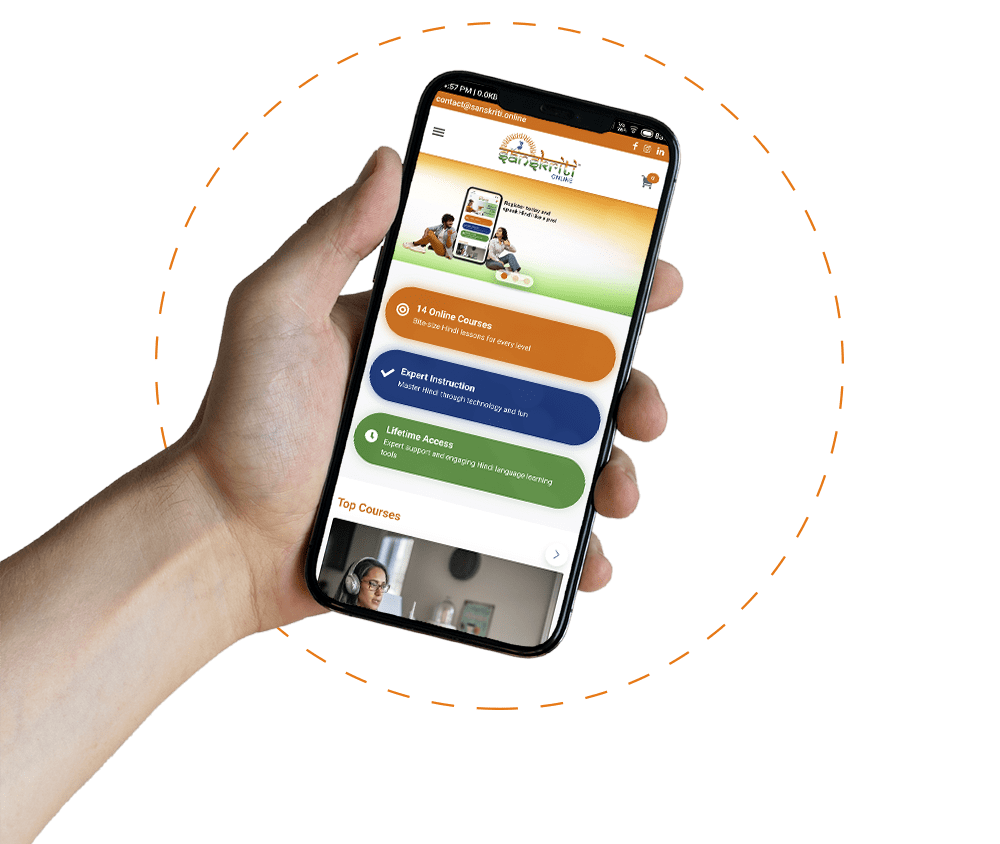 Important Notice
Due to the COVID-19 situation, we are offering online and in person small private tutoring, please contact us directly for more details.
Hong Kong Locations
Monday – Kennedy School ​(2:15 - 3:15 pm) 
Tuesday – Bradbury School​ (4:55 - 5:55 pm) Starting on Aug 31
Wednesday – Online Academy​ (3:30 - 7:30 pm) 
Thursday – Online Academy​ (3:30 - 8:30 pm)
Friday – Glenealy School  (4:15 - 5:15 pm) 
Singapore Locations
Monday – Symphony Heights
Tuesday - Loenie Gardens
Wednesday – Tanglin Trust International School
Thursday – Invictus International School
Sunday – Wing On Life Gardens, Bukit Timah
Online Sessions
Monday to Friday
Registration is required for Tutor-led classes.